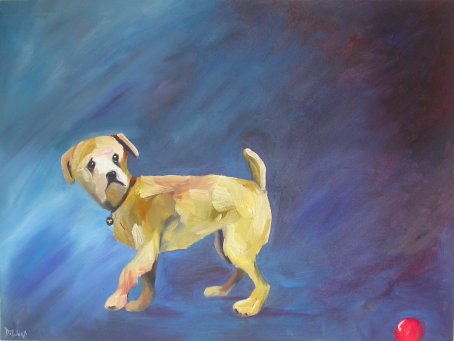 PAINTINGS......EXHIBITION SOLD OUT
Solo Exhibition - Main Street Gallery, Montville, Queensland, Australia
"Me and You and a dog named Boo"

This exhibition of paintings are a direct result of having travelled to Hawaii, or rather Kauai, for the fourth time for a holiday........
...........you know when you are going to take a holiday snap and something or someone walks in front?
This is how this group of paintings started.

I began to see the familiar and ordinary things with different eyes.

Perhaps this comes from being "on holiday" things seem to sparkle more. Things seem to jump out at you visually and ordinary things seem amazing all of a sudden. Colours are fresher, colours are brighter. Everything seems crisp, like sunshine on still water.

A stray dog takes on a whole new fascination and a seagull seems to be telling a story all of it's own.