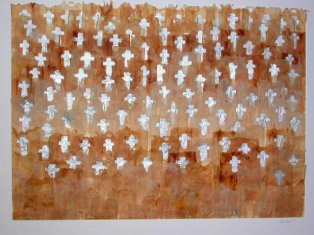 THE BLAKE PRIZE 2010 - Selected - Director's Cut Exhibition
---
Title: Together Alone
Medium: Recycled Tea bag Paper and Silver Leaf

Art Statement -
I was very moved recently when watching a large group of mourners at the funeral of an Australian soldier.
It struck me how faith and spirituality bring people together regardless of all our imperfections and various walks of life.

I decided to create a work specially for The Blake Prize and was thrilled to be selected for the Director's Cut Exhibition 2010.

This artwork expresses my response to the importance of spirituality and hope.